Few, if any, lighthouses have a program that offers an on location RV campsite where prospective Guest Lighthouse Keepers have the advantage of being able to use their own personal living quarters while, at the same time, experience an opportunity to work and live at an historic lighthouse. Keepers will thoroughly enjoy their time spent here; making new friends while volunteering for a worthwhile cause. The lighthouse is free to the public and we are able to keep it so by you generously donating your time and from donations and sales in the gift shop. Your duties as a guest keeper are to greet and act as docents informing the visiting public as to the history of the lighthouse and other attractions at the park. You may be stationed either in the lighthouse, tower, gift shop, or in the pilothouse. A groundskeeper, who lives on the premises and is employed by the county is responsible for grounds maintenance and scheduling use of the facilities for various social events. It is not the responsibility of the Guest Lighthouse Keeper to do this or clean restrooms. Tours of duty range from two to four weeks and run from Monday to Monday.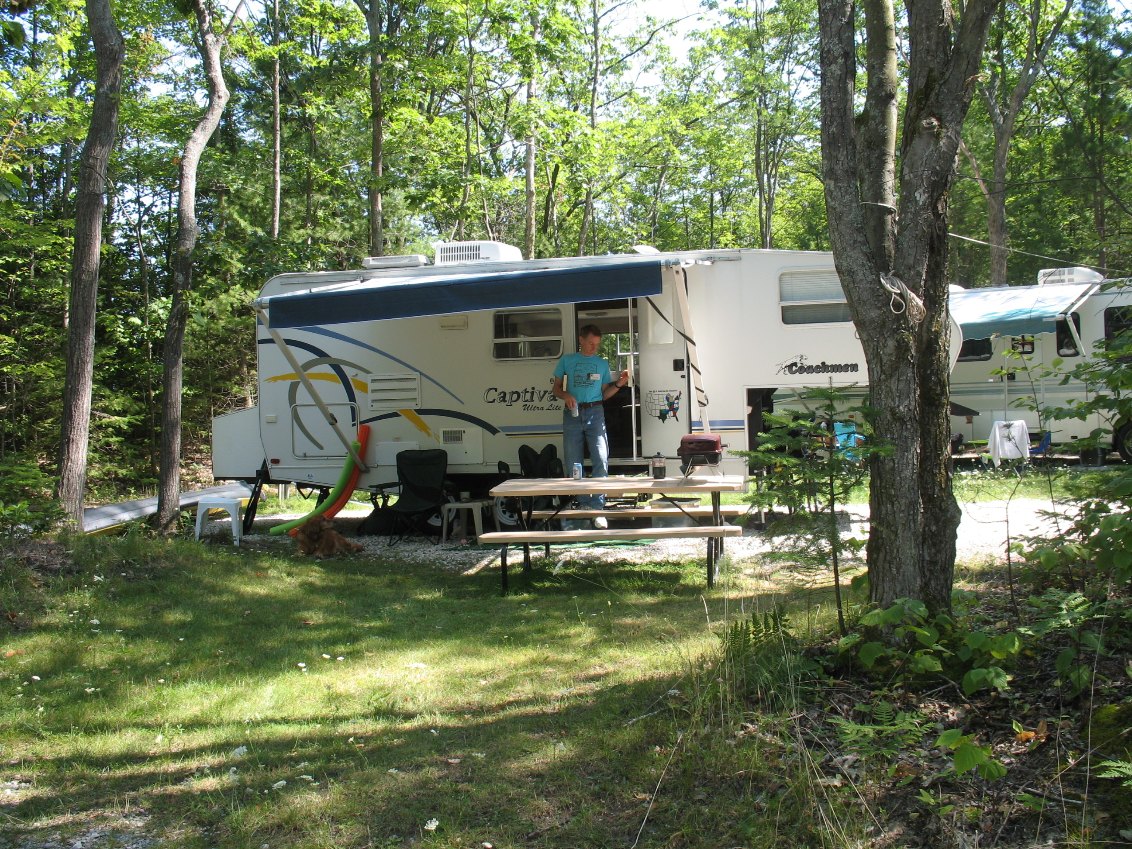 The lighthouse museum, gift shop, Glawe School and Calcite Pilot House are operated and maintained by the 40 Mile Point Lighthouse Society and are open to the public Memorial Day Weekend to Mid-October, Tuesday to Saturday 10 am to 4 pm, Sunday, Noon to 4 pm. We are closed on Monday. Your hours of work will vary depending on the number of volunteers at the time, but usually run between 20 and 26 hours per week. Couples will always work at the same time and have at least two days off each week.

The campground is located on the lighthouse grounds and is just a short walk over a sand dune to the lake. The campground has 50 amp electrical hookups, water, and sewer. The four campsites have a shared campfire ring and firewood is provided. There is a wash machine and dryer in the lighthouse for your convenience along with the use of a golf cart. A seven mile bike hike trail runs from the lighthouse to Rogers City and there are other hiking trails in the park that you are free to enjoy. Dogs are allowed at the park, although not in the buildings. We only ask that you keep your pet on a leash and pick up after them.

Your only costs are a non-refundable $25 application fee. This also gets you a one year membership to our society, the Sidelights, our newsletter and a 10% discount on items purchased in the gift shop. You will also be asked for a $150 security deposit. This check is not cashed and will be returned to you upon completion of your tour or of you giving prior notification of you not being able to attend. If you have any further questions contact me:
Pat Williams
40mkeepers@gmail.com
Click here for an APPLICATION.
Print it out and send it to the address on the form.